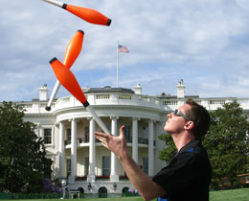 Jason Tardy
has been performing for over 20 years, and has trained extensively at the Celebration Barn Theater with Mime Master Tony Montanaro as well as Broadway comedians, gold-medal jugglers, and Cirque du Soleil performers. Jason has appeared on America's Got Talent, CBS's The Early Show, Inside Edition, and CBS Sunday Morning, and has performed at the Atlantis Resort in the Bahamas, the Golden Phoenix Casino in Reno, Nevada, and – three times – at the White House. Jason is also the co-creator of the renowned music and comedy show AudioBody, and when he's not on the road he can be found building cool inventions in his basement.
Find out more about Jason at:
JasonTardy.com
---
---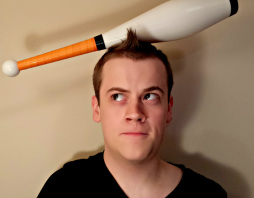 Steve Corning
began performing professionally at age 17 and has appeared at theaters and resorts across the country, and internationally aboard Disney Cruise Lines. Steve hails from South Paris, Maine and began his career studying physical comedy and improvisation at the world renowned Celebration Barn Theater in his hometown. Steve is the show's go-to for weird and crazy stuff, including escape artistry, contortion, and balancing heavy things on his face. He also tours as a member of the electronic-comedy duo AudioBody and spends his free time writing original electronic music under the name
ThinkFishTank
.
​
Find out more about Steve at:
S
teveCorning.com
---